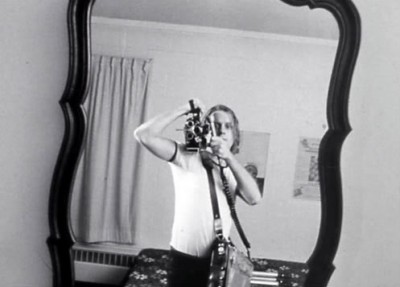 Rick Hancox and Chris Gallagher circa 1987
by Aaron Zeghers // Published to Cineflyer // Feb 8, 2012
Here is an entertaining local article on experimental film, unearthed with the help of Dave Barber: Experimental Label Burdens Movie-Makers.
It was originally published in the Winnipeg Free Press in April of 1987 by former reporter Paul McKie. The article is about a visit to Winnipeg by two experimental filmmakers, Rick Hancox and Chris Gallagher, and their difference in opinion on being titled "experimental filmmakers".
Hancox studied film and photography at NYU and Ohio University and then taught for years at Sheridan College, the home of the Escarpment School, where he influenced many important Canadian experimental filmmakers from Mike Hoolboom to Philip Hoffman. He is known for his impressive catalogue of first-person, diaristic experimental films.
Flash back to 1987: Hancox was editing one of his films, Moose Jaw (There's a Future in Our Past) with the help any willing workshop participants from Winnipeg, undoubtedly a fascinating experience. Gallagher, on the other hand, had just finished Undivided Attention and was screening and analyzing it as part of the workshop. The film, comprised of found and original footage, is what one may call an experimental take on your classic road movie. Gallagher, also a photographer, has gone on to have film and photography exhibitions around the world, and is now an Associate Professor of film at The University of British Columbia.
In the Free Press article (found HERE), it is interesting that Gallagher shows discomfort with the term "experimental" while Hancox embraces it and journalist Paul McKie has some kind of restrained contempt for it.
For more on Hancox, check out this great interview with Hancox by Mike Hoolboom.
For more on Gallagher, check out his film website (aka. Foxglove Films), or his photography website.
For more about the escarpment school, check out this Cineflyer interview by Ryan Simmons with the editor of Incite: Journal of Experimental Media, Brett Kashmere.
-Aaron Zeghers